For a long time the mechanical engineering industry, and in particular the automotive industry, has tried to find ways of optimising parameters and filtering methods in order to make them more effective and to improve their correlation with functional phenomena.
The functional characterisation of surface texture is of fundamental importance for all mechanical parts that are in contact with another part, in other words for all parts with the exception of parts that have an aspect-related function.
The first reflex was to reproduce for a surface the graphical study of functional parameters defined in the ISO 13565-2 standard, based upon the Rk, Rpk and Rvk parameters initially defined by the German automotive industry (DIN 4776/4777). For surfaces, their counterparts Sk, Spk, Svk, Smr1 and Smr2 are calculated in the same way, with respect to the Abbott curve, itself calculated on the entire surface.
Nonetheless in due course the new volume parameters are expected to replace these functional parameters that were derived from profilometry standards.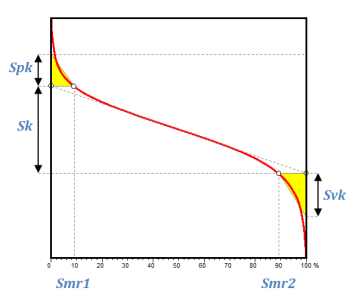 Similarily, parameters defined in ISO 13565-3 have been extrapolated to surfaces with Spq, Svq and Smq.