Filtration is required for several purposes in the process of surface texture analysis. A morphological filter is commonly used to correct the stylus tip effect on raw data; an outliers removal filter may be needed to clean up data measured with an optical probe. In some cases, a smoothing filter, such as a λs or S-Filter, is required to compare data measured with different instrument methods. But the main reason for using a filter is to separate long-scale components from short-scale components, in other words to separate waviness from roughness, and calculate parameters according to the specification.
1. Filtration scheme

[ISO 3274] defines a measurement scheme as above. The profile measured by modern profilometers is called the Extracted profile. It is sampled and digitized, and represents an abstraction of the real surface (several filtering effects are introduced by the probe and the bandwidth of the instrument). The real surface is modelled by a mechanical surface (boundary) when measured with a stylus, or by an electromagnetic surface which represents the surface envelope sensed by an optical probe. The next stage is to remove form by either fitting the nominal form of the component (e.g. a circle), or fitting a polynomial to level/flatten the profile. Then, the following stage is the λs filtering to remove the microroughness that is usually due to instrument or environmental noise. Sometimes this stage is skipped, for example in the German standard [VDA 2006] used in automotive industry. The obtained profile is called the Primary profile. Some P parameters can be calculated on this profile. Then, the λc filter that separates waviness from roughness is applied. Finally, roughness or waviness parameters can be calculated.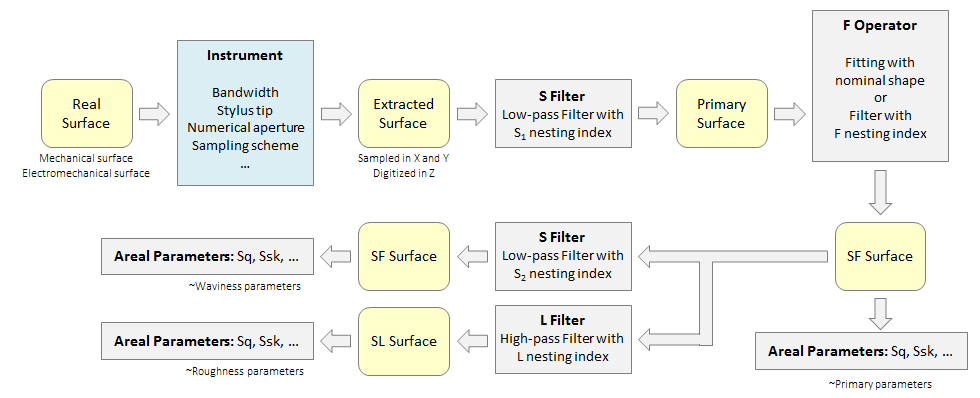 A similar scheme (above) can be established for surfaces (areal). The vocabulary introduced in ISO 25178 is new but quite understandable: The S-Filter removes short-scale components. The L-Filter removes long-scale components. The F-Operator is the form removal operation. Scale-limited surfaces - SF surface or SL surface - are obtained after the respective filters/operations have been applied. Areal parameters do not reflect the previous filter operation in their name.
2. Historical filters
3. Gaussian filters
5. Cut-off vs Nesting index
6. Cubic Spline filters
8. Wavelets filters
9. End-effects
10. Morphological filters
11. Outlier removal filters
12. FFT filters
13. ISO 16610 Master Plan
ISO 16610 is the reference standard for profile and areal filters for surface texture and form deviation. The first group of parts covers profile filters, the second group covers areal filters.
General Concepts
Profile Filters
Areal Filters
Note: Profile filter standards were published as Technical Specifications in the first instance. They are now being progressively converted into International Standards. The new areal standards are directly published as International Standards.
WD: Working draft, CD: Committee draft, DIS: Draft international standard, FDIS: Final draft international standard, IS: International standard (published), TS: Technical specification, TR: Technical report

This page can be downloaded as a PDF article: Good practices for the use of areal filters.
Next page: International Standards for Surface Texture
---