1. I know how to calibrate my instrument, but how can I verify my analysis software?
Profilometers can be verified and adjusted by measuring physical representations of known surface texture for which profile parameters have been certified. Measurement is performed by accredited laboratories. Standards such as ISO 5436-1 and ISO 12179 provide guidance for this task.
You may verify analysis software packages using softgauges which are known profile or surface data files, either mathematically generated or measured by an instrument. The ISO 5436-2 standard defines a file format (.SMD) that can be used by National Metrology Institutes (NMIs) to provide reference profiles together with certified parameter values. Other standard formats are sometimes used, such as .SDF or .X3P. MountainsMap® users can load such files, calculate parameters and compare them with reference values stored in the file.
Another way is to compare values calculated by your software on a reference profile with values given by reference software on the same profile (see question 3).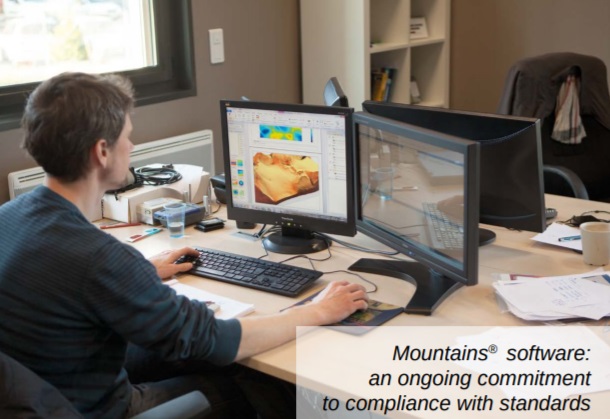 2. When I calculate profile parameters with MountainsMap® and with my instrument software, I get different results. Which are correct?
Comparing two surface analysis software packages or one commercial package with reference software from a NMI is not as straightforward as it seems.
Each software package uses its own set of default preferences which makes it difficult to compare things in the same context, i.e. using the same filtration conditions.
In particular, users should make sure that the following points are configured the same way in both packages:
λs filter
Leveling or form removal (association method)
Roughness or waviness λc filter
Compatibility with non-measured points. Are they excluded, interpolated or not managed at all?
Number of cut-offs removed in the running-in and running-out. ½ or 1 cut-off? Or are end-effects managed according to ISO 16610-28?
Number of sampling lengths used to average parameters. Or are the parameters calculated on the evaluation length?
Reference according to which parameters are calculated. ISO 4287:1996, ISO 4287:1984, ISO 4287 Amendment 1, VDA 2006 or B46.1? This is particularly important for certain parameters such as Rz, RPc, Rc or RSm.
These points can usually be configured via software preferences, but depending on your package you may not be able to change them all.
Bear in mind that if the context is not the same, then the comparison is meaningless! Similar considerations also apply to surfaces and areal parameters.