What do we get if we calculate these parameters on irregular or stochastic profiles? Well, we can always calculate a mean value, but we average narrow and wide-motif widths, short and tall-motif heights etc. Moreover, motifs are unstable when reversing or shifting the profile. Some say that the method is inherently not stable, but the truth is that it should be used only on profiles that exhibit a minimum of texture motifs, i.e. periodical or semi-periodical profiles. And unfortunately, the practice is not in line with that principle; many users continue to calculate R and AR on irregular profiles, instead of using classic Rq, Rsk parameters etc. which are better suited to irregular profiles. This observation also applies to RSm and Rc from ISO 4287 that are associated with a segmentation method too.
Default values
ISO 12085 uses a limit A to separate roughness from waviness motifs. But it also controls the segmentation itself. Its default value of 0,5 mm for a profile length of 16 mm is usually used as-is without any question. But the reality shows that a better value can often be found if we consider that the motif segmentation should detect regular motifs with the smallest standard deviation. The simple ratio AR/SAR can be calculated, and if a profile is periodical, the standard deviation will be small compared to the mean and the ratio will be high. On the contrary, the ratio will be small on irregular profiles. This can be used to test several values for the limit A in order to define the optimal limit A, i.e. the one with the highest value for the ratio AR/SAR.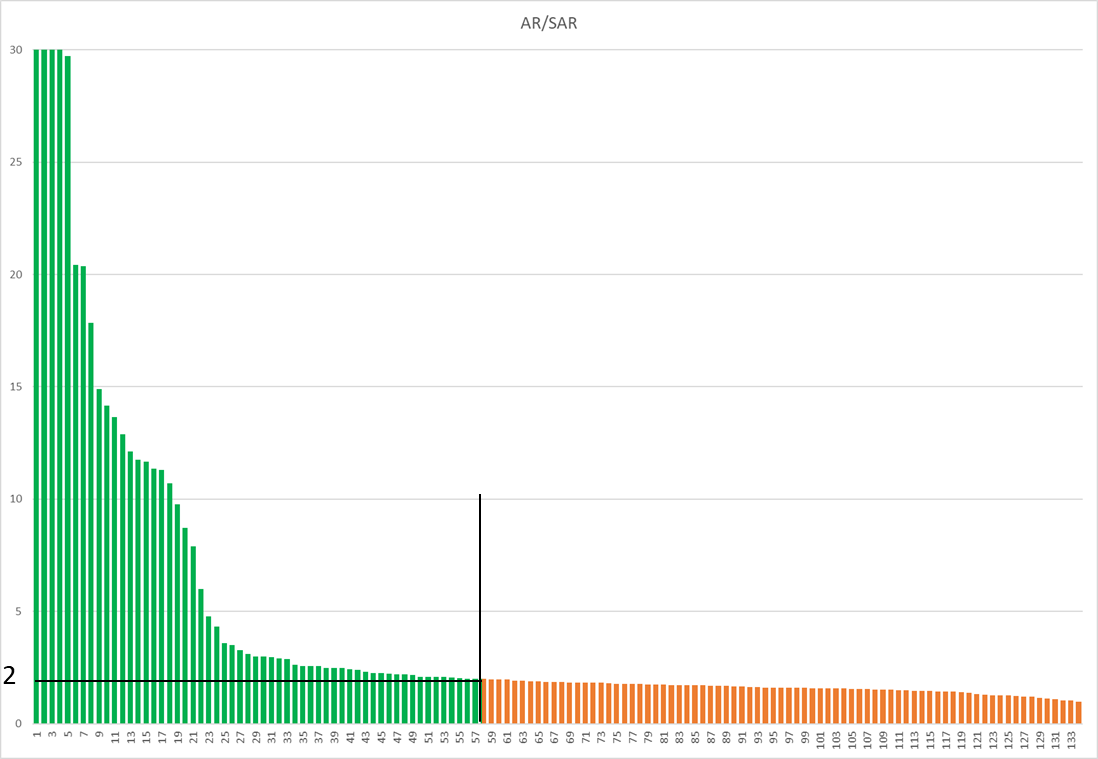 Above: The graph of AR/SAR values is split in two categories with a threshold = 2,0 which means that the standard deviation is not higher than 50% of the mean value. The 57 green profiles on the left can be considered as suitable for the motifs method.A finer selection can be obtained with a combination of R/SR and AR/SAR ratios.
Comparisons
The comparison of values on R and AR between the old method (with optimal limit A) and the watershed segmentation, with an adequate pruning shows very good correlation which means that the new method is a safe replacement, when used with the correct settings.

Above: Comparison of the ISO 12085 (optimal A) and watershed methods shows good correlation.
Further work
More investigations must be done in order to adjust the method and answer any remaining questions. For example, the upper envelope used to calculate waviness parameters in ISO 12085 can be replaced by a morphological closing filter using a disc as a structuring element. But with what radius?
Another unsolved question relates to the removal of deep valleys or high peaks, which was done in the old method using a threshold on motifs height when exceeding 1,65σ of the height distribution. With the watershed segmentation, a simpler statistical method could be used. This work will then help to define adequate default values in the new ISO standards and define good practice.
Segmentation of motifs on profiles is still a useful method. Watershed segmentation, together with a pruning and adequate configuration make it possible to solve the stability problems of ISO 12085 and keep the benefit of 40 years of experience in qualifying mechanical components.